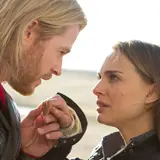 With Marvel's Thor shooting past the $435 million mark at the worldwide box office, Disney has locked in a July 26, 2013 release date for Thor 2.
According to Deadline, Thor director Kenneth Branagh will not return to helm the sequel that will also star Chris Hemsworth as the godly superhero. A new director will be sought with the selection process expected to get underway shortly – if not immediately.
Marvel has already hired Don Payne, who worked on the final draft for the original Thor, to pen the script for Thor 2. Payne's credits include My Super Ex-Girlfriend, Fantastic Four: Rise Of The Silver Surfer, and a handful of The Simpsons episodes. The humor from Thor should theoretically bridge to the sequel.
It's still too early to know if Natalie Portman, Tom Hiddleston, Anthony Hopkins, Idris Elba or any of the other Thor main character actors will appear in the sequel. The only lock at this point is Hemsworth.
The summer of 2013 has shaped up almost identically to this summer for Marvel Studios. This year saw Thor open in May followed by Captain America: The First Avenger later this month. 2013 will see Iron Man 3 from director Shane Black on May 3, followed two months later by Thor 2.
Betweem the individual superhero films will be The Avengers on May 4, 2012. That superhero mash-up is already deep into production.
Should Captain America: The First Avenger become a hit as it is expected to, Disney and Marvel might be scheduling its sequel for 2014 within the next few months.
Source: Deadline