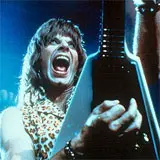 According to a new listing at Amazon.com, MGM Home Entertainment has scheduled This is Spinal Tap for a Blu-ray Disc bow on January 20, 2009.
The famous "rockmentary" has seen its fair share of home video releases already on DVD and begins what could be another collection of multiple releases on Blu-ray.
With scads of bonus materials already published on DVD it's hard at this time to pinpoint what may or may not appear on Blu-ray. We'll pass along final specs and extras if/when an official announcement is made by the studio.
This is Spinal Tap on Blu-ray will carry an SRP of $34.99.
Click here to pre-order This is Spinal Tap on Blu-ray for $25.95 at Amazon.com.