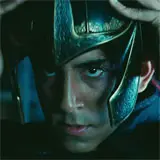 The third and likely final trailer for M. Night Shyamalan's The Last Airbender theatrical adaptation has arrived and it's fresh enough to already be touting the recently announced decision by Night and Paramount to convert the film to 3D in post-production.
This trailer sprinkles scenes from previous trailer and TV spots amongst all-new footage, much of which involves some fantastic effects work with the air, fire, water and earth elements. There's even a beastie or two making their debut.
The Last Airbender stars Noah Ringer, Nicola Peltz, Dev Patel, Jackson Rathbone, Shaun Toub, Aasif Mandvi and Cliff Curtis. It arrives in theaters on July 2 with the mission of overcoming the constant bombardment of controversy swirling around the Western ethnicity of its hero cast.