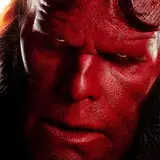 The third and final trailer for Guillermo del Toro's Hellboy II: The Golden Army is now available in high definition over at Apple.com.
The trailer is similar to the TV spots now running in that it touches upon Hellboy's origins as seen in the first film before diving into the creatures running rampant in the sequel. The creative move by Universal should help draw in a new sheltered audience who may have never heard of Hellboy.
Also available over at Apple.com is an all-new prologue animated comic, along with previous trailers and a featurette.
Head on over to Apple.com to check out the third Hellboy II: The Golden Army trailer and other goodies. They're worth your precious minutes.
Hellboy II: The Golden Army opens in theaters July 11.