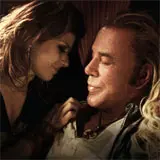 Online retailer Amazon.com has begun taking pre-orders for Darren Aronofsky's The Wrestler starring Mickey Rourke, Marisa Tomei and Evan Rachel Wood.
Rourke and Tomei were both nominated for Best Actor and Best Actress Academy Awards, respectively, but neither took home an Oscar. Still, The Wrestler should prove a big hit on Blu-ray for the curious who weren't able to see it during limited theatrical engagements.
Fox has yet to formally announced The Wrestler on Blu-ray Disc and likely won't do so until April. According to our sources, April 21 is the day when you can expect it to arrive in stores.
Click here to pre-order The Wrestler on Blu-ray for $27.99 from Amazon.com.
We'll pass along additional The Wrestler Blu-ray details as they are available. In the meantime, you can check out a sneak peek at the probably cover art through the disc details below, or see what other Blu-ray titles Marisa Tomei has been in and also rate her through her name link below.