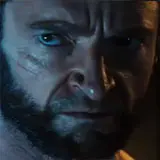 We still have another two days before Fox bows the first trailer for James Mangold's The Wolverine starring Hugh Jackman. Thanks to EW, a fresh batch of images have been dropped to help make the wait a little less excruciating to endure. And thanks to Mangold and his willingness to share goods on Twitter, the first flashy tease of the trailer is out and includes a brief glimpse of none other than Famke Janssen.
The images and their captions tell us that The Wolverine will play off the idea that Wolverine is in Japan to escape the reality that everyone around him that he knows and cares for can die and be hurt and he can't. While there he serves as the protector for Mariko (Tao Okamoto) whom has been targeted by the Yakuza. Expect may Yakuza to meet the wrong end of Wolverine's blades.
The best part about the eight new images is the reveal of mutant Viper (Svetlana Khodchenkova) whom wants to equally kill and cherish Wolverine at the same time. We also get our first look at Yukio (newcomer Rila Fukushima) whom has a "unique relationship" with Wolverine as his friend and so is "lethal herself."
The Wolverine tears into theaters on July 26, 2013. A 20-second trailer tease hits tomorrow. The Full trailer makes its long-awaited debut on Wednesday.