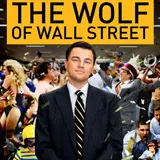 Martin Scorsese's The Wolf of Wall Street, based on the rise and fall of Jordan Belfort, has a (update: the release date has been removed from Amazon and here at the request of Paramount) release date on Blu-ray and DVD according to a recently updated listing at online retailer Amazon.com.
The Wolf of Wall Street was met with controversy after its theatrical debut due to its excess depiction drugs, sex, lifestyle and profanity, including setting the record for the most F-bombs in a film at just over 500. Though many thought the Academy would overlook the film due to its portrayal of these polarizing themes, they instead issued a total of five nominations including Best Picture, Best Actor for Leonardo DiCaprio, Best Supporting Actor for Jonah Hill, Best Director for Scorsese, and Best Adapted Screenplay for Terence Winter.
The Wolf of Wall Street runs exactly three hours in length in its theatrical cut, though Scorsese has gone on record indicating that roughly one hour's worth of material was trimmed out to get it down to this length. That extra material is rumored to be more profanity, drugs and sex, enough to push the film into NC-17 territory.
According to Collider, this director's cut will not make an appearance on the Blu-ray and DVD release of The Wolf of Wall Street. That's not a surprise given Scorsese has never been one to release alternate cuts of his films. This is one director's cut that fans will be vocal about wanting to see. Whether Paramount and Scorsese will cave and release the 210-minute version might take years to play out.
Click here to pre-order The Wolf of Wall Street on Blu-ray, DVD and Digital HD combo for $19.99 at Amazon, a full 50% off the $39.99 list price.
With Amazon revealing the date, I expect Paramount Home Entertainment to formally announce the home video release of The Wolf of Wall Street in the coming days or weeks, and will pass along all the details once they are out.