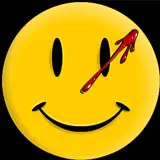 The Watchmen trailer was one of the most talked about events at Comic-Con last month that likely added millions of dollars to the film's eventual bottom line. That is if anyone ever gets a chance to buy a ticket.
An ongoing courtroom battle between Warner Brothers, who intends to release The Watchmen on March 6, and Twentieth Century Fox, who previously abandoned bringing The Watchmen to the big screen but feels they still own the intellectual rights, has been given a green light by a judge to move forward.
In short, the judge felt Warner has been unable to prove producer Larry Gordon, who worked with Fox on the original halted project and then signed with Warner in 2006, maintained rights after leaving Fox.
We'll spare you the legal mumbo jumbo but sufficed to say this ruling has invigorated Fox execs and lawyers. Now they not only want their rights to the property proven, but wants the new Zack Snyder film to never see the light of day with a Warner logo preceding it.
Too much buzz is surrounding The Watchmen for it to simply disappear and never see the light of day, especially since Snyder's 300 made a killing at the box office. Even if Fox ultimately wins this case and blocks Warner from releasing the film, we'd like to think Warner won't appeal and Fox will turn around and release The Watchmen immediately.
Yeah, right. Our best bet is for this case to drag on past March 6 so the ruling has no impact on the film's release. If there's ever been a time we wanted lawyers to take their good old time more than they regularly do, this is it.