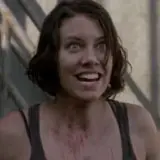 Rick Grimes (Andrew Lincoln) thinks a prison could be a potential "gold mine" of supplies and safety in an awesome new trailer for AMC's The Walking Dead: Season 3.
This new trailer only runs a minute in length but it manages to pack in quite a bit about the upcoming third season of AMC's hit show in that time. We get to see Rick and his group the night before taking on the zombies in the prison, the attack on the prison, and an introduction to the town of Woodbury that is run by the Governor (David Morrissey). There's even an armed and ready to fire
Speaking of the Governor, he gets a line in this new trailer, as does fellow newcomer Michonne (Danai Gurira). It's going to be interesting to see just how far showrunner Glen Mazzara pushes the Governor's diabolical agenda compared to Robert Kirkman's chilling The Walking Dead comic.
The Walking Dead: Season 3 makes its highly anticipated debut on Sunday, October 14 at 9/8c on AMC. Those of you who also watch Dexter will want to make sure to record one or the other on your DVR.
Source: TV Guide