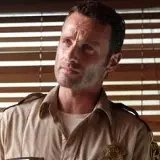 Frant Darabont, Robert Kirkman and the core cast of The Walking Dead attended PaleyFest 2011 on Saturday to talk about their hit show and offer some insight as to what season two might hold. If you're sensitive to spoilers then you might want to consider stop reading now.
Darabont promises that season two will pick up right where season one left off and, unlike the CDC season one conclusion that veered from the comics, will return to the basic blueprint that Kirkman's comic has laid forth. That means a probable trip to the prison where the survivors will seek shelter but find something far worse than they ever could have imagined. Darabont joked that his career seems to always take him back to prisons (re: The Shawshank Redemption).
One of the big unanswered questions from season one is what Jenner whispered into the ear of Rick Grimes in the season finale. Darabont said the writers aren't "communist turds" and the answer will come sooner rather than linger throughout season two.
Another big question from season one is the fate of Merle Dixon who sawed his hand off after being left on a rooftop to rot by Rick Grimes. Daradont squashed rumors that Merle would become The Governor, one of the big villains in the comic. He did confirm that Merle will be seen again and that he will "test the possibilities" of how far the character's violent tendencies can be pushed.
Expect more of the Rick/Shane/Lori love triangle which may or may not be complicated by Lori turning out to be pregnant with Shane's baby. It seems like the logical direction for the show to go but that be reason enough for Frank and co. to throw a curveball.
Love will be in the air for other characters as well. Kirkman said the Maggie and Glenn relationship from the comics will likely happen in the show at some point. In his and Laurie Holden's (Andrea) view, it's the end of the world so there's not a lot for the characters to do.
Shooting on season two of The Walking Dead will begin in May with the premiere occurring sometime in October. It can't come soon enough.
Source: E! and The Futon Critic