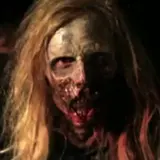 The first promo spot for AMC's The Walking Dead season 2 has popped up online. Only it's from the UK and promotes the show airing on FK, the channel you have to watch it on across the pond.
The promo spots gets up close and personal with a female zombie walker. She's after Rick Grimes who, in turn, fires a slow motion bullet right at her head. You don't get to see the impact but you get the point.
The Walking Dead season 2 will premiere here in the States this October on AMC. For another teaser, take a quick tour of the on-location shoot in Atlanta, Georgia with creator Robert Kirkman.
Source: STYD