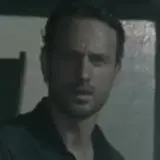 Last night AMC debuted a brief new clip from The Walking Dead mid-season premiere 'Nebraska.' As promised, it gave a first glimpse of new characters set to join the cast, but left their identities shrouded in mystery.
The clip begins with Rick trying to talk sense into Hershel who, in the aftermath of watching his zombie family gunned down, is downing drinks in a local watering hole. Then two men walk into the bar, recognize Rick and Hershel, and one of them says "Son of a bitch, they're alive."
One theory on who these men might be is the Vatos gang from Season 1 that cared for elderly left abandoned in the city. I'd like this theory to pan out, but there's no Mexican accent on the man that speaks. Still, not everyone in the Vatos was of Mexican descent.
Another theory is the men are from the prison that figures heavily in The Walking Dead comic book series. I'm not leaning toward this one as there would be no reason for the men to recognize Rick and Hershel.
Who do you think the two men are in The Walking Dead preview clip below? Sound off the comments section.
The Walking Dead Season 2 mid-season premiere 'Nebraska' debuts Sunday, February 12 on AMC.