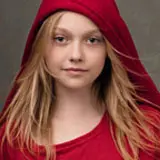 A few months ago, Summit Entertainment invited five journalists to spend some guarded time on The Twilight Saga: New Moon set. While there they walked among Kristen Stewart, Robert Pattinson and Taylor Lautner expressing varying degrees of excitement ranging from ho-hum to fanatic. But it's time spent watching the Volturi shoot a scene that caught my attention.
The Volturi vampires make their Twilight debut in New Moon and to this point have remained hidden from the public's view. Not a single official Volturi image has been released thus far, and until these set visit reports, descriptions of the Italian vampires have been nonexistent.
The main Volturi cast include Michael Sheen as leader Aro; Dakota Fanning as Jane and Cameron Bright as her twin, Alec; Jamie Campbell-Bower as Caius; and Christopher Heyerdahl as Marcus.
Rotten Tomatoes offered the best description of Dakota Fanning in their set visit report. "Focus fell particularly on Fanning, dressed in a soft, vintage-style white dress, a dark velvet cape, and Mary Janes," they wrote. "Her blonde hair swept into a bun, with pale skin and scarlet lips and dark eye makeup, she had the look of a textbook Little Red Riding Hood — albeit one with blood-red eyes and a steely eeriness about her. 'She's immune to all of us,' Michael Sheen as Aro mused, directing his warrior to turn her pain-inducing powers on Bella. 'Shall we, Jane?'"
They continue with Dakota's performance, "With nary a peep, Fanning's eyes lit up. She turned her head towards Bella/Kristen Stewart, and gave a slight, cruel smile. Well, the hint of a smile, really. The tension was palpable; in that miniscule movement I was sold on Fanning — at 15 years of age, one of New Moon's seasoned veterans — and her ability to convey unadulterated malice. On film, you'll see her bring poor Robert Pattinson to his knees, and you might even enjoy it."
Hit Fix chose to focus on describing the Volturi lair, far less Dracula than traditional vampire settings. "Completely enclosed and the masterwork of production designer David Brisbin (The Day the Earth Stood Still), the Lair looks as though it's made of white marble with an accent of green limestone creating borders through an authentic-looking Italian design," they described. "Three chairs sit on the top of a landing a few steps up from the Liar's floor. The middle one is Aro, but the black chairs all have lions heads at the end of each armrest. Additionally, the chair to the far left has a backing designed with an illustration of black vines and the chair to the right of Aro features thorns. There is a domed roof, partially of blue screen and six windows circling above the center of the hall."
Fandango is a bit more descriptive in their sharing of the lair's traits. "The scene starts off in the Volturi's underground lair – it looks like it's ripped right out of the "Verdict" chapter, page 467 from the New Moon book," they begun. "The room is circular, with dark green and red accents complimenting the cream-colored marble floors, walls and columns. Dim light spills in from circular windows, symmetrically spaced around the room, nearing the domed ceiling. Latin words fill in the space between the circular windows, creating an endless, connected chain: 'Semper. Erit. Vita. Brevis. Ars. Longa. Tua. Vita. Mea. Nemo. Est. Supra. Leges. Et. Sic…' Three ornately decorated black chairs with gold accents and carved lion heads at the armrests are placed at one end of the room atop a three-tiered circular platform. Aro and two other vampires sit, looking bored."
MSN sent a fan onto the New Moon sets who wrote with arguably the most series knowledge of any journalist. "The screens show Dakota Fanning as Jane and Cameron Bright as Alec, two of the most dangerous and specially gifted Volturi," they shared. "Michael Sheen is off camera, but his chilling voice intones, 'Let's see if she's immune to all of us. Shall we, Jane?' Dakota does two more takes of this scene, in which she has no dialogue. She spends long moments looking fiercely at someone (probably Bella) her smug smile slowly giving way to a quiet rage. In her red contact lenses, vampire makeup, and a coiled white-blond up-do, she is the perfect incarnation of a demon with an angel's face. When Fanning finishes the scene, she comes by with a quick hello before taking leave; up close, her red eyes are even more disconcerting."
MSN continues with a detailed impressions of Aro's throne, "I head over to where Aro's throne and two others are placed; they are several steps up on a raised area of the rotunda," they added. "The three thrones are exquisite, painted black with gold detailing, black leather seats, and decorative carvings on most of the surfaces. Each throne has a disc above the headrest and is created from a different element. Aro's appears to be cut from solid rock, the one to its left looks like several twigs woven together, and the one to its right from dried, dark green coral. Behind the thrones is a large, round, porthole-style window, brightly lit from the other side."
Bright seems to be a theme in the Volturi lair, a look uncommon in vampire architecture. Based on the descriptions this place should look fantastic on screen.
The final set visit report comes from Hollywood.com who, like Rotten Tomatoes, made sure to comment on Dakota Fanning. "Cut to Dakota. Her black-rimmed red-centered eyes coordinate with her evil little smirk. Sinister. Whoever she's directing her gaze towards — presumably Bella — is in for a world of hurt. Jane's power is the ability to inflict pain."
Summit Entertainment lifting the embargo on these set visit reports with pieces on the Volturi may signal a visual unveiling of the vampires at the Twilight New Moon Comic-Con panel this Thursday. I'll admit; I'm curious to see what especially Michael Sheen and Dakota can infuse into the Twilight Saga.