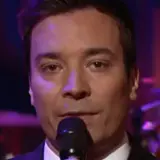 With the NFL Playoffs in full swing and NBC having a monopoly of the first two Wild Card games on Saturday, the network used the opportunity to televise the first promotional spot for The Tonight Show Starring Jimmy Fallon that will officially launch next month. To mark the changing of the guard to a new host, the spot pays homage to all whom have come before.
The minute-long spot runs through a couple memorable moments with past hosts, starting with Steve Allen and Jack Paar. It then transitions to Johnny Carson, the most famous and arguably best Tonight Show host, before moving through Jay Leno and even Conan O'Brien, whose stint was as short lived as the amount of time he's given in the spot. O'Brien, of course, jumped ship to TBS.
While each past host is given only a few moments, new host Jimmy Fallon, who officially takes over for Jay Leno on February 17, gets the majority of footage clips. Fallon has become quite popular in the late night talk show carousel and should fit right into NBC's Tonight Show.
Before Jimmy takes over, NBC will air a two-hour Best of Late Night special later tonight at 9/8c. It will be competing with the U.S. debut of the PBS drama Downton Abbey so good luck in the ratings, NBC. You will need it