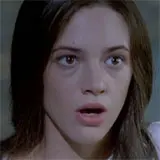 Blue Underground has released full disc specs and high resolution cover art for Dario Argento's The Stendhal Syndrome starring Asia Argento, the second of six Blu-ray titles expected from the indie studio this year (the first being The Final Countdown).
The Stendhal Syndrome will be presented in widescreen 1.66:1 1080p video and offer 7.1 DTS-HD Master Audio and 5.1 Dolby TrueHD audio options.
Extras are a little vague and assumed to be comprised of interviews with the film's major players. The full list is as follows.
Director: Dario Argento
Inspiration: Psychological Consultant Graziella Magherini
Special Effects: Sergio Stivaletti
Assistant Director: Luigi Cozzi
Production Designer: Massimo Antonello Geleng
Theatrical Trailer
The Stendhal Syndrome on Blu-ray carries an SRP of $34.95.
Click here to pre-order The Stendhal Syndrome on Blu-ray for a reduced price at Amazon.com.