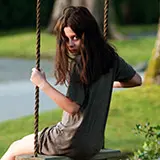 Lionsgate claimed victory at the box office on Friday as the new supernatural thriller The Possession easily debuted in first place. Lawless starring Shia LaBeouf settled for second, while holdover The Expendables 2 blasted its way into third.
The Possession came into the weekend riding a wave of critical praise and used that to its advantage in earning $6 million from 2,816 theaters. That's not too shabby considering Labor Day weekend isn't typically a target for big box office returns, and Halloween is still almost two months off when horror films tend to fare better. Look for The Possession to wrap up its opening weekend somewhere in the neighborhood of $15 to $20 million.
Lawless with Shia LaBeouf and Tom Hardy opened on Wednesday and managed to come in second on Friday with $2.75 million. Through three days it has earned $4.9 million and should wrap its first five days of release through Sunday around $14 million.
Taking third was The Expendables 2 with $2.2 million. There's practically zero chance it will reach $10 million through Sunday, and an even smaller chance it will reach $100 million by the close of its run with a gross total standing at $59.5 million.
The Bourne Legacy is still hanging around with a fourth place finish from $1.8 million. Unlike The Expendables 2, look for this sequel to cross $100 million within the next week or so with its total hitting $90.8 million. Universal would have liked to see more at this point considering Legacy is as much as reboot as a sequel with Jeremy Renner taking over for Matt Damon.
Wrapping the top five is the politically charged 2015 Obama's America thanks to an expansion to 1,750 venues. With $1.6 added to its bank, the documentary has reached $14.7 million and should continue to perform strong as the political season progresses.
Stop back Sunday to see if The Possession reached $20 million and if Shia LaBeouf and Lawless were able to hold off Sylvester Stallone and his crew for third place at the weekend box office.