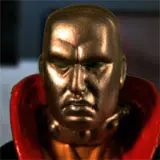 Paramount may not be screening G.I. Joe: The Rise of Cobra to the majority of critics, but they have shared a new short film guaranteed to be more nostalgic than anything Stephen Sommers put to lens. Behold The Invasion of Cobra Island.
The great thing about this two-part film is the cast came relatively cheap. There were no contract negotiations or arguing over trailer size, only a squabble here and there about who had the cleanest paint apps. I also heard the effects budget was a fraction of its live-action brethren.
Also unlike the feature film, don't worry about what Cobra Commander may or may not look like. He is clearly recognizable running Cobra Island donning either the signature hood or helmet. Though his throne could use some sprucing up, there is no denying this is a man passed the verge of insanity who needs to wear a pants size a couple notches larger.
Watch G.I. Joe: The Invasion of Cobra Island over at the official G.I. Joe: The Rise of Cobra website.