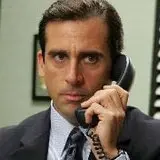 NBC's The Office will make its second appearance on Blu-ray with the release of season six on September 7. Universal has already detailed what the box set will include (see below for a recap), but today we've learned of a Blu-ray first that will debut in this set.
Owners of The Office: Season 6 on Blu-ray with a BD-Live enabled Blu-ray player and Internet connection will be able to watch the first 5 episodes of season 7 in high definition via BD-Live as they debut on NBC. This is great news for anyone with a Blu-ray set-up that does not have a high definition package with a cable or satellite provider or the means to pick up NBC's over-the-air HD signal.
Here's the rest of those The Office: Season 6 Blu-ray features:
"Podcast" Minisode: In the exclusive version of the minisode "Podcast," Gabe (Zach Woods) tries to impress corporate by recording a podcast for the Sabre website. However, his plans for a small meaningful, profile of Kevin (Brian Baumgartner) quickly unravel as the rest of the office forces Gabe to become the reluctant host of a late night style talk show.
Welcome to Sabre Featurette: Full-screen version of the corporate welcome video starring

Kathy Bates and Christian Slater

Episode Commentary: Commentaries featuring the cast and crew of The Office on episodes such as "The Promotion," "Niagara," "The Lover," "Murder," "Secret Santa," "Sabre," "The Delivery" and "Happy Hour."
More than Two Hours of Deleted Scenes
Two Extended Episodes
Blooper Reel
The Office Promos: Dwight's Tribute to Canada
Pre-order The Office: Season 6 on Blu-ray for $48.99 at Amazon.com.