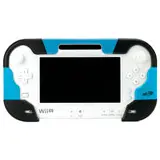 Wii U pre-orders for launch day are already sold out everywhere they became available. The rest of the inventory due to arrive between the November 18 release date and Christmas is likely to get snatched up, too.
That means over the next couple of months, a very expensive piece of video game hardware is going to end up in the hands of thousands upon thousands of kids the world over. Many of these kids may have already had the opportunity to cruise around on mommy or daddy's tablet. However, with Wii U, kids are going to want to take control like they have with every other Nintendo gaming console that has hit the market.
I have handled the Wii U GamePad on multiple occasions now and must admit that it is a nifty piece of technology. It isn't as clumsy or big as images might suggest. But like tablets, it looks extremely fragile and probably wouldn't fare too well if dropped on the floor as most gaming controllers often are.
Those parents out there that have younger kids and a 3DS or DS already know about those gadgets taking a nose dive and being susceptible to a swift and instant death as it slams into a hard surface.
The solution to this problem for the 3DS or DS is the same as it is for the Wii U: Nerf Armor.
Available in stores on the Wii U launch day is the Wii U Nerf Armor Starter Kit by PDP. This thick Nerf "skin" wraps around the Wii U GamePad and protects it from what I promise will be many trips out of a kid's hand and onto the floor. My kids' 3DS has hit a hard tile floor more times than I can count. The Nerf Armor has protected it each and every drop.
The Wii U Nerf Armor Starter Kit also comes with a stylus. That's fine and all, but the real necessity is the protection for your Wii U GamePad, and out the gate the Wii U Nerf Armor Starter Kit is not only the best option, but the ONLY option.
Kids aren't the only ones who could be at fault here. I have seen many a controller intentionally take flight from an adult hand and games like Zombie U and Assassin's Creed 3 are sure to test gamers' stress levels.
If I could only buy one accessory for my Wii U on launch day it would be Nerf Armor for the GamePad. Think about it; what fun would Nintendo Land, Scribblenauts Unlimited or New Super Mario Bros. Ube without a GamePad to play them on? If that expensive controller breaks, there's no option available to buy a standalone one yet. Adults call that conundrum "SOL" and no Wii U Write and Protect Kit will salvage a fatal drop.
The Wii U Nerf Armor Starter Kits are available for pre-order at GameStop and Amazon.com.