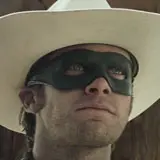 Johnny Depp has a special relationship with his horse in the second trailer for Disney and Gore Verbinski's The Lone Ranger.
This new trailer spends its first half accomplishing what the previous trailers avoided: who is the Lone Ranger? It turns out he was a man (Armie Hammer) named John Reid, left for dead that was not buried by the spirit warrior Tonto (Depp) because his horse told him that the fallen man had essentially died and come back. Thus Tonto saves Reid by somehow placing him on a structure hundreds of feet off the ground, and the pair begin to form a bond under unusual circumstances.
The horse that Tonto likes to chat with is later seen standing on a tree branch about 15 feet off the ground. Either Lone Ranger and Tonto are smoking some strong stuff or the horse has some legitimate mystical powers in addition to providing comic relief.
Once Tonto convinces Lone Ranger to wear a mask to protect his identity and remain a dead man, the trailer kicks into action mode with plenty of stock chases, jumping, explosions, and being chased by an explosion to jumping off a ledge into water to go around. The feature set piece revolves around a train that, as now revealed, crashes in spectacular fashion with Tonto and Lone Ranger flying off the top of it in the process. Nothing like a flying piece of debris landing near their crotches to scream originality.
On a serious note, The Lone Ranger has the potential to offer the same kind of fun and mindless adventure that Pirates of the Caribbean: Curse of the Black Pearl did.
Lone Ranger gallops into theaters on July 3, 2013.