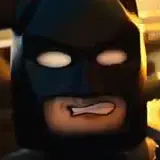 Those whom haven't played one of the Traveler's Tales Lego video games probably cringed when Warner Bros. announced a feature-length film starring the diminutive brick building figures. Having played many of the tongue-in-cheek adaptations of pop culture icons into Lego form including Indiana Jones, Star Wars, and of course Batman, I was sincerely hoping Warner Bros. would find a way to capture that humor and not try something experimental. They did one better.
The Lego Movie trailer introduces us to Emmet (Chris Pratt), a relatively generic and equally clueless Lego figure thrust into the responsibility of saving the world. After a group of Lego figures including a wizard voiced by Morgan Freeman tells him of his importance while Batman, Wonder Woman, the Man of Steel Superman, a beat up 80s space figure, Shaq and other notable Lego figures look on, Emmet responds by admitting he wasn't listening to a word being said.
There's quirky humor throughout that might as well have been written by the folks at TT Games as it fits in with the Lego video games, especially the recent Batman entries. The caped crusader, voiced by Will Arnett, steals the trailer when he shows up in his brick built jet to save Emmet, then gruffly answers a question about his costume color of choice.
The Lego Movie plot may end up being a relatively generic "save the world against the big bad" thing, but ample Lego-themed humor is already drawing new interest in the project and silencing some of the early doubters.
The most surprising revelation in The Lego Movie trailer is the use of stop-motion. I'm sure there's CGI mixed in, but the stop-motion style lends itself well to the Lego brand and helps differentiate the project from scores of other animated releases, not to mention the nostalgic connection.
The Lego Movie also stars the voices of Liam Neeson, Will Ferrell, Alison Brie, Elizabeth Banks and Nick Offerman. It arrives in theaters on February 7, 2014. Here the trailer, official synopsis and first poster.
"The original 3D computer animated story follows Emmet, an ordinary, rules-following, perfectly average LEGO minifigure who is mistakenly identified as the most extraordinary person and the key to saving the world. He is drafted into a fellowship of strangers on an epic quest to stop an evil tyrant, a journey for which Emmet is hopelessly and hilariously underprepared."