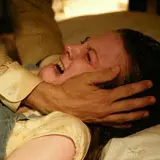 What was supposed to be another lackluster post-summer weekend at the box office churned out a couple surprisingly strong newcomer openings.
Lionsgate's The Last Exorcism finished on top with $9.5 million which puts it in a position to finish the weekend somewhere in the neighborhood of $25 million. A strong marketing push and creepy ads helped it overcome missing the Halloween release window by a solid two months.
Sony's Takers took second with $7.5 million giving it a shot at the high teens or maybe even $20 million if word of mouth helps drive additional business. An estimated production budget of $20 million translates to breaking even well before its first week in theaters wraps.
James Cameron's Avatar: Special Edition struggled to pull moviegoers back to Pandora with an additional 8 minutes of footage as it wrangled a mere $1.2 million despite all of its tickets enjoying a 3D or IMAX upcharge. Possible reasons for its weak bow include everyone recently bought Avatar on Blu-ray or DVD and don't find the need to spend $10 or more to see it again so soon, as well as Cameron already admitting that even more additional footage will be on the upcoming November multi-disc Blu-ray and DVD releases.
Check back Sunday for the complete estimated weekend box office results.