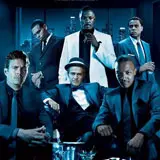 The North American box office continued its late-summer siesta this weekend as a two new movies, Lionsgate's The Last Exorcism and Sony's Takers pushed Sylvester Stallone's The Expendables out of the top spot. Along with Sony holdovers Eat Pray Love and The Other Guys, the top five was dominated by films released by just two studios. While that fact is impressive and the grosses for the top two films commendable given the late August frame, box office was still down in the dumps as the top failed to gross a combined $100 in sales, a first for this summer season. Compared to last weekend, this weekend's sales fell by roughly 12.5% and 15% in comparison to the top ten a year ago.
Produced by Eli Roth and acquired by Lionsgate for under a million dollars, The Last Exorcism scared up a devilish $21.3 million its first three days. The PG-13 film opened strong on Friday with a $9.5 million gross before dropping 15% on Saturday to an estimated $8 million. Word of mouth was pretty savage from opening night crowds who rated it a "D" according to Cinemascore. Even if the movie vanishes right after Labor Day, it will still post a sizable profit for the indie studio which has had a great August already thanks to The Expendables.
Speaking of Sly and the boys, their action continued to be a hit in grossing an estimated $9.5 million in third place for the weekend and a total of $82 million overall. Off a decent 44% this weekend from last, the film still has a chance of hitting the magical $100 million mark by summer's end.
Released through their Screen Gems division, Sony's urban action flick Takers took a solid $21 million in estimated ticket sales to land in second place for the weekend. Featuring an ensemble cast that included Paul Walker and Hayden Christensen, the PG-13 shoot 'em up had the best average of any film in the top ten for the weekend ($9,579 versus the $7,411 for Last Exorcism).
Julia Roberts continued her late summer vacation in fourth place as Eat Pray Love added an estimated $7 million to its coffers to bring its three-week total to approximately $60 million. Off 42%, Julia should finish discovering her inner self somewhere near the $80 million mark. Will Ferrell and Mark Wahlberg continued to laugh all the way to the bank as their comedy hit The Other Guys collared another $6.6 million to land in fifth place. The film's total now stands at $99.3 million and should cross the $100 million mark on Monday.
Fox's second place winner from last weekend, Vampires Suck, dropped to sixth place and a $5.3 million gross. Off 57% from its opening, the movie has amassed $27.9 million so far. Watch for the Twilight spoof to limp to a final gross between $37-40 million, in line with fellow Fox spoofs Epic Movie, Meet the Spartans and Date Movie. Seventh place went to the long-running Warner Brothers hit Inception which added another $5.1 million to its domestic total of $271 million. Overseas, the Christopher Nolan hit has amassed $384 million to date. Domestically, Cobb and company still have a chance of finishing its impressive run near $290 million.
In eighth place was the Emma Thompson sequel Nanny McPhee Returns , off 43% with an estimated $4.7 million in sales to push its ten-day total to a quiet $17 million. Watch for the Nanny to finish her run around the $30 million mark. Ninth place went to Jennifer Aniston's latest dud The Switch with $4.6 million and $16.5 million overall. Off 44% from its soft opening last weekend, expect the pregnancy comedy to crawl to the $25 million mark when all is said and done. In tenth place was Piranha 3D with a bloodless $4.3 million. Off 57% from last week, the movie has pulled in $18.4 million so far with not much more to go. It's a low number to be sure, but apparently enough to okay a sequel.
Speaking of 3D, Fox reissued its Box Office King of the World Avatar in an extended cut on 812 3D and IMAX 3D screens. The result was $4 million for the weekend to push the film's domestic total past the $750 million mark. Considering that the movie made so much money during its incredible run earlier this year and that millions of copies of the film on Blu-ray and DVD have been purchased, the reissue's gross is commendable. It should also be noted that the per-screen average for the Avatar reissue was the third highest in the top twenty.
And finally, Pixar/Disney's Toy Story 3 crossed the one billion dollar mark in global ticket sales this weekend. $405.7 million of that total hails from the United States and $596 million from overseas markets (with a little more to come from the latter). This marks the second 2010 film to hit a billion dollars at the global box office following Disney and Tim Burton's Alice in Wonderland.
Next weekend, the Labor Day holiday brings the arrival of George Clooney's The American on Wednesday followed two days later by the Drew Barrymore comedy Going the Distance and Robert Rodriguez' b-movie homage Machete starring Danny Trejo and an impressive ensemble supporting cast. Predict what these films will make in the next round of our Weekend Box Office Prophet Game, launching Tuesday or Wednesday of this upcoming week.
– Shawn Fitzgerald