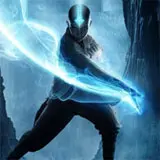 A pair of new character posters for M. Night Shyamalan's The Last Airbender debuted today over at IGN.
The posters feature Dev Patel as Zuko doing his firebending thing and Noah Ringer as Aang showing off his airbending abilities. These should be showing up in multiplexes shortly.
The Last Airbender also stars Nicola Peltz, Cliff Curtis, Jackson Rathbone, Jessica Jade Andres, Aasif Mandvi, Shaun Toub and Keong Sim. It opens nationwide in traditional and 3D viewing flavors on July 2.