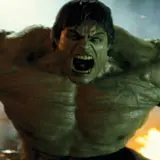 Our friends over at HDAddicts.com have added an early pre-order for a special collector's edition of The Incredible Hulk (2008 Edward Norton version) on Blu-ray Disc.
According to the listing, it looks like you'll be able to give The Incredible Hulk a spin on November 25.
Whether or not the rumored 70 additional minutes cut from the theatrical version are a definite inclusion remains to be seen. The "special collector's edition" sub-title is promising as far as that's concerned.
An official announcement by Universal Studios Home Entertainment is at least a few months off, so please consider this release date as not quite set in stone given the extremely early arrival of this information. More often than not these early dates pan out to be either on the money or close so take from that what you want.
We'll be sure to pass along any additional Incredible Hulk tidbits as soon as the big green guy passes them along.