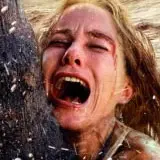 Naomi Watts is running the table on awards nominations for her role in The Impossible, and now I have learned that Summit Entertainment will release the Indian Ocean tsunami survival drama to Blu-ray and DVD on April 23, 2013. Early access will be available via digital streaming on April 2.
The Impossible, which co-stars Ewan McGregor and Tom Holland, has seen a limited theatrical run that has never expanded beyond 886 theaters, yet has still managed to earn $15.2 million at the domestic box office thus far. Overseas is a different story though where the film has earned $129.7 million and counting.
Summit will ship The Impossible on Blu-ray with 2.35:1 1080p video and 5.1 DTS-HD Master Audio. Bonus features include:
Deleted scenes
"Casting The Impossible" featurette
"Realizing The Impossible" featurette
Audio commentary with director J.A. Bayona; writer Sergio G. Sanchez; producer Belen Atienza; and Maria Belon, the woman whose family experience is the story on which the film is based
Public service announcement (PSA) from the Happy Hearts Fund
The Impossible on Blu-ray is not yet available for pre-order at Amazon.com. Watch the trailer and see the Blu-ray cover art below.