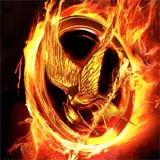 Director Gary Ross' The Hunger Games starring Jennifer Lawrence, Josh Hutcherson and Liam Hemsworth is poised to shake the box office when descends upon theaters in exactly three weeks. If author Suzanne Collins' early review of the finished film is any indication, fans should be as equally pleased with the highly anticipated adaptation as she is.
According to Deadline, The Hunger Games is putting up tracking numbers that studios "dream of." Thus far, 54% of those polled have definite interest in seeing the film in theaters, while an additional 23% list it as their first choice to see of any movie coming out.
One rival studio told Deadline that The Hunger Games could open north of $70 million which would put it ahead of the $69.6 million the first Twilight film powered by Robert Pattinson, Kristen Stewart and Taylor Lautner brought in its opening opening weekend. Like the Twilight films, The Hunger Games is skewing toward young females. Unlike Twilight, there's more interest outside that core demographic for The Hunger Games, thanks in part to its more mature subject matter.
Suzanne Collins, author of The Hunger Games trilogy of young adult books, had the opportunity to see the finished film this past weekend and shared her thoughts on the film's official Facebook page. She praised Ross' faithfulness to the books, as well as his willingness to expand beyond Katniss' point-of-view to places like the "Hunger Games control room" and "President Snow's rose garden."
More importantly, she praised the cast starting with "my god," led by Jennifer Lawrence as the film's heroine. I wouldn't expect her to say thing less, but it's nice to see confirmation come from the woman who brought the world of Panem to life on the page.
For an early taste of Jennifer Lawrence's turn as Katniss Everdeen, check out this first The Hunger Games clip in which Katniss gets her point across. Look for the film in theaters everywhere, complete with the first trailer for The Twilight Saga: Breaking Dawn Part 2, on Friday, March 23.