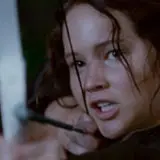 The Hunger Games shot another bull's-eye at the box office and trounced Mirror Mirror and Wrath of the Titans on Friday, more than doubling each of the newcomers' opening day business without breaking a sweat.
Though it tumbled an enormous 72 percent from its massive Friday opening a week ago, audiences still had a voracious appetite for The Hunger Games as the Lionsgate film entered its second weekend of release. With another $18.9 million added to the pot, the film based on the novel by Suzanne Collins and starring Jennifer Lawrence, Josh Hutcherson and Liam Hemsworth has blown past $200 million overall and should top $60 million for the weekend.
Second place at the box office on Friday went to the Clash of the Titans sequel Wrath of the Titans starring Sam Worthington and Liam Neeson. The former film racked up $26.1 million its opening day; however, Wrath took in only $12.4 million in its first 24 hours of release. If positive word of mouth spreads throughout the weekend, Wrath should finish in the low-to-mid 30s. Clash of the Titans, on the other hand, opened huge to $61.2 million.
Relativity's Snow White film Mirror Mirror starring Julia Roberts as the Evil Queen went after the family demographic and came away with a mediocre $5.9 million. Since it's a family film, Mirror Mirror should benefit from Saturday and Sunday matinees and might just power past the $20 million mark.
Fourth went to the R-rated comedy 21 Jumpstreet with $4.7 million, enough to push it to almost $83 million overall. Look for the Channing Tatum and Jonah Hill surprise hit to reach $100 million sometime in April.
The Lorax only slid 37 percent in its fourth weekend despite the direct competition from Mirror Mirror. With another $2 million in the bank, The Lorax moves past $180 million and continues to close in on the $200 million mark.
Stop back Sunday for the complete weekend box office studio estimates to see whether The Hunger Games topped $60 million, Mirror Mirror was fair enough to touch $20 million, and Wrath of the Titans had enough energy to reach $35 million.