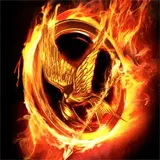 Now that The Hunger Games starring Jennifer Lawrence, Josh Hutcherson and Liam Hemsworth is wrapping up its box office run and setting a few records in the process, Lionsgate must now turn its attention toward the film's upcoming Blu-ray and DVD release.
The Hunger Games Blu-ray and DVD is likely to shoot right to the top of Amazon.com's Blu-ray bestsellers list when it goes up for pre-order in the near future. How quickly fans can get their hands on the hot discs isn't being determined by the usual 3-4 month window between theatrical and home video releases.
According to the Wall Street Journal, Lionsgate is likely to wait a full five months to release The Hunger Games on Blu-ray and DVD. That time frame would put the release date in late August or early September.
The reason for this delay is twofold. First, The Hunger Games stellar box office performance has forced theater owners to keep it around longer than a typical film. It would make little sense to rush the movie to home video so quickly after slowly exiting cinemas.
Second, Lionsgate and Summit Entertainment are now one in the same. In looking back at Summit's history, they delayed the Blu-ray and DVD release of Twilight so it could be timed to better coincide with production on The Twilight Saga: New Moon. That strategy worked like a charm as New Moon has the highest opening weekend totals of all the Twilight films, including Breaking Dawn Part 1.
Newly confirmed The Hunger Games: Catching Fire director Francis Lawrence is expected to begin principal photography on the sequel around August or September. Using the publicity of The Hunger Games home video release to alert fans that Catching Fire is on the way makes all the sense in the world.
I'll share more information on the Blu-ray and DVD release of The Hunger Games: Catching Fire as it becomes available.
Source: WSJ