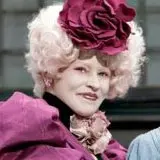 All odds favored Lionsgate Entertainment's The Hunger Games starring Jennifer Lawrence, Josh Hutcherson and Liam Hemsworth this weekend as it opened to spectacular numbers at the North American box office. The critically-praised film adaptation of the Suzanne Collins futuristic novel not only debuted at number one, it made twice as much as the entire top ten combined. Suffice it to say, Katniss and pals helped lift the box office to new heights for the year: 119% higher than last week, 95% higher than last year at this time, and 81% higher than the top ten from 2010.
Starting at 12:01 am Friday morning, the much-anticipated The Hunger Games launched in 4,137 theaters – including 268 limited run IMAX theaters – and earned a huge $19.75 million alone from midnight shows and additional 3 a.m. showings. It then went on to earn a terrific $48.5 million during its first full day of release, which is third in all-time non-midnight opening day grosses right behind Spider-Man 3 ($49.8 million) and The Dark Knight ($48.7 million). Saturday saw the non-midnight figure inch up a bit to $51 million, while Sunday is being estimated at $36 million.
The Hunger Games added an estimated $60 million from foreign markets as well, which bumped its global total to a staggering $215 million.
Should studio estimates hold, The Hunger Games will have landed the third all-time best opening in film history as well as the highest opening ever for a non-sequel. Even if the estimate is slightly off, the latter record will stand firm as Tim Burton's Alice in Wonderland opened to $116 million.
In regards to the all-time chart, only Harry Potter and the Deathly Hallows Part 2 ($169.2 million) and The Dark Knight ($158.4 million) opened higher than The Hunger Games.
Part of the film's monster success can be attributed to legions of the book's devout fans showing up during the first three days. The rest of the credit would have to go to Lionsgate's marketing campaign which, while aggressive, cleverly hid the film's titular event.
As expected, the majority of The Hunger Games audience was comprised of women over the age of 25. Adults tend not to rush out and see a movie on opening weekend, instead waiting to see how word-of-mouth spreads. Since ticket buyers bestowed Games with an "A" CinemaScore rating, the movie could be looking at a theatrical run comparable to last year's Bridesmaids and The Help.
Sony's 21 Jump Street held up well in light of The Hunger Games juggernaut. The Jonah Hill comedy eased an acceptable 43% from its number one opening last weekend to earn an estimated $21 million, bringing its ten-day total to the $71 million mark.
Universal's The Lorax took third and eased 42% in its fourth weekend of release. The comedy earned an estimated $13.1 million to bring its total to a great $177.3 million so far. Overseas, The Lorax has earned $21 million so far.
Fourth place went to Disney's big-budget misfire John Carter. In its third week, the Sci-Fi flick crashed 63% to bring in an estimated $5 million on 3,212 screens. After three weeks, the movie's domestic total stands at $62.3 million with worldwide ticket sales clocking in at $242 million.
Rounding out the top five was Relativity's action hit Act of Valor with $2 million, enough to raise its gross total to $66 million.
The remainder of the top ten is as follows:
6. Project X (Warner) $1.95 million (-52%) $51.7 million to date.
7. A Thousand Words (Paramount) $1.92 million (-47%) $14.9 million
8. October Baby (Goldwyn) $1.7 million/$1.91 million
9. Safe House (Universal) $1.39 million (-42%) $122.6 million
10. Journey 2 The Mysterious Island (Warner/New Line) $1.37 million $97.5 million
Next weekend, Warner Bros. will debut the sequel Wrath of the Titans, while Relativity will open the Snow White tale Mirror, Mirror. Watch for The Hunger Games to slay both and retain the number one spot without breaking a sweat.
– Shawn Fitzgerald