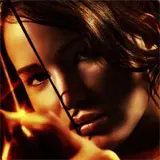 Lionsgate is so convinced that The Hunger Games starring Jennifer Lawrence, Liam Hemsworth and Josh Hutcherson, and directed by Gary Ross, is a hot property that they have begun selling advanced tickets just over a month before the film's March 23 release date.
The tickets for the first of four films based on author Suzanne Collins' book trilogy went on sale this morning at Fandango. By this afternoon, ticket sales for The Hunger Games opening day and weekend showings accounted for 83 percent of the total ticket sales at the site.
As an added freebie bonus, Fandango is offering to send an email with an iTunes code to download the Secret Sisters song "Tomorrow Will Be Kinder" from the film's soundtrack to anyone who buys an advanced The Hunger Games movie ticket through their site.
Lionsgate will be drumming up additional interest in The Hunger Games by launching a mall tour featuring the film's stars. Beginning March 3 in Santa Monica, California, and ending a week later in Seattle, Washington, various talent from the film including Ross, Lawrence, Hutcherson and Hemsworth, along with J.Law, Alexander Ludwig, Amandla Stenberg, Isabelle Fuhrman and Jacqueline Emerson will make appearances and participate in a q/a session. The cities visited will also include Atlanta, Chicago, Phoenix, Miami, Dallas and Minneapolis.
All eyes will be on The Hunger Games March 23 to see how close it comes to the opening of Twilight, the other big young adult book-turned-film series that also embarked on a mall tour just prior to its theatrical release.
Source: Fandango