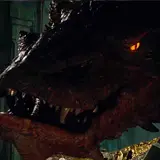 The North American box office top ten was on fire this weekend as The Hobbit: the Desolation of Smaug, Anchorman 2: The Legend Continues, American Hustle and Frozen all posted strong numbers to help business surge a big 39% over last year at this time as holiday shoppers pick up last minute gifts. Saving Mr. Banks expanded nationwide to mild numbers while Fox's 3D kiddie flick Walking with Dinosaurs was extinct right out the gate.
Warner/MGM's The Hobbit: the Desolation of Smaug dropped roughly 57% from its opening weekend totals to earn an estimated $31.45 million from 3.928 theaters in its sophomore session. After ten days, the Peter Jackson sequel has earned $127.5 million in domestic sales. The drop was almost the same as the 56% drop experienced by last year's An Unexpected Journey, the only difference being that that film opened 13% larger than Smaug did. Currently, the new Bilbo adventure is running 15% behind the first film. If that percentage holds throughout its run, Smaug may wind down with $260 million from the North American market. Overseas, the movie has earned a hefty $276 million so far.
It has been nine and a half years since Ron Burgundy and the Channel Four news team has graced the big screen in the hit comedy Anchorman: The Legend of Ron Burgundy. The film earned a respectable $84 million back in 2004 but found bigger popularity on home video and cable television over the following years, so a sequel was inevitable. After what appeared to be an endless promotional period, Anchorman 2: The Legend Continues debuted on 3,507 screens this weekend to earn an estimated $26.7 million ($40 million since Wednesday). The $50 million comedy reunites Will Ferrell, Paul Rudd, Steve Carell, David Koechner and Christina Applegate with director Adam McKay. The $50 million production earned decent reviews from critics and should have no trouble passing the original's final gross.
Last-minute holiday shopping and festivities had little effect on the box office for Disney's animated blockbuster Frozen, which lost a scant 15% of its audience bring in an estimated $19.1 million in its fifth weekend on 3,540 screens. To date, the family hit has earned a massive $191 million and is poised to continue rolling in the dough over the next few weeks. The film has earned an additional $152 million from foreign markets.
After debuting to massive numbers last weekend on six screens, Sony's con comedy American Hustle expanded to 2,507 theaters in its second weekend to hustle a strong $19 million. The David O. Russell feature has earned $20 million to date. Reviews have been quite strong for the future Oscar contender, which should help it withstand fierce competition from Paramount's The Wolf Of Wall Street, which arrives in theaters on Christmas Day.
Another feature expanding into nationwide release this weekend albeit to far lesser success than Hustle is Disney's Saving Mr. Banks. The Emma Thompson/Tom Hanks drama about the making of Mary Poppins expanded into 2,110 theaters but could only muster a mild $9.3 million. To date, Mr. Banks has earned $10 million and is going to have to rely on strong word-of-mouth from ticket buyers to stay afloat in a very crowded marketplace.
The remainder of the top ten is as follows:
6. The Hunger Games: Catching Fire (Lionsgate) $8.75 million (-36%); $371.7 million
7. Tyler Perry's A Madea Christmas (Lionsgate) $8.5 million (-47%); $28.2 million
8. Walking With Dinosaurs (Fox) $7.3 million; NEW
9. Dhoom 3 (Yash Raj) $3.3 million; NEW
10. Thor: The Dark World (Disney/Marvel) $1.32 million (-53%); $200.7 million
In addition to the aforementioned Wolf of Wall Street, Christmas Day sees the debuts of 47 Ronin, Grudge Match, The Secret Life of Walter Mitty and another Justin Bieber documentary, Believe.
Merry Christmas, everyone!