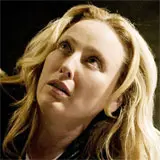 Lionsgate has revealed plans to bring this past spring's box officer horror champ The Haunting in Connecticut to Blu-ray Disc on July 14 with what is the most disturbing cover art yet to grace a Blu-ray title.
The horror thriller starring Virginia Madsen and based on a true story comes to Blu-ray in its original theatrical cut with an option to view a new unrated cut, both in 2.35:1 1080p video. Audio specs have yet to be announced but will likely be either 5.1 or 7.1 DTS-HD Master Audio.
Bonus features include numerous commentaries and featurettes amongst other goodies. The complete list is as follows:
Theatrical and new unrated cut
Digital copy
Separate audio commentaries with the filmmakers and the actors
Multiple featurettes that look at the making of the film, post mortem photography and an interview with a PHD and psychic examining the haunting
Two-part documentary on the actual 1987 haunting with interviews from the real life family and demonologists
Amazon has priced The Haunting in Connecticut on Blu-ray at $29.99 or $10 off the $39.99 retail price. Click here to secure a copy.