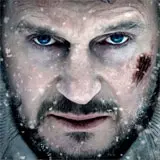 The box office hit The Grey starring Liam Neeson will stalk a new audience on May 22, the release date the studio has chosen to debut the film on Blu-ray and DVD.
Director Joe Carnahan's The Grey took the box office by storm for Open Road Films, nearly touching $20 million its opening weekend and topping $51 million through its theatrical run. It further cemented Liam Neeson as a viable action star, and became the actor's second January hit in what is usually a tough month to attract box office business.
The Grey on Blu-ray will be a combo pack release with DVD and an UltraViolet digital copy. The film will be presented in 2.4:1 1080p video and 5.1 DTS-HD Master Audio, with D-BOX Motion Code included on the disc.
A feature commentary with co-writer/director Joe Carnahan and editors Roger Barton and Jason Hellmann, and some deleted scenes, will be included on the Blu-ray and DVD, while Picture-in-Picture featuring pre-visualization and storyboard comparisons of some the film's top scenes is exclusive to Blu-ray. The Blu-ray will also include Universal's standard extras.
The Grey Blu-ray cover art will be added when available.
Click here to pre-order The Grey on Blu-ray for $23.99 at Amazon.com, 31% off the 34.98 list price.