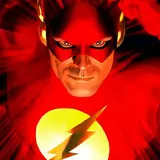 Martin Campbell's The Green Lantern starring Ryan Reynolds is still in production and already Warner Bros. is plotting behind the scenes on the sequel.
According to THR's Heat Vision, Warner has hired the writing team of Greg Berlanti, Michael Green and Marc Guggenheim to pen a pair of new DC Comics feature films: a sequel to The Green Lantern and The Flash. All three worked on the script for The Green Lantern so they're as familiar with the story as anyone.
The trio will focus on completing one treatment before the other, though which comes first isn't known at this time. I would expect Warner would want to get The Flash going first as they could easily have that script wrapped before The Green Lantern arrives in theaters next summer. This approach would leave plenty of time for a Green Lantern sequel story idea to come together after seeing how audiences react to different elements in the original.
Warner already has scripts for Christopher Nolan's third and presumably final Batman film and a Superman reboot project under the watchful eye of Nolan in the works. At this pace they could get to the point where we see two new DC Comics-based live-action films per year.