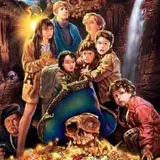 The Goonies appear to be on the hunt for a new treasure as Richard Donner offered confirmation that he intends to film a sequel based on the 1980's adventure film.
While speaking with TMZ during an autograph session in Beverly Hills, Donner was asked if he intended to make another comic book movie. He said if another The Goonies film represents a comic book movie then yes, he is.
Donner also said that it is his intention to bring back the entire original cast that featured Corey Feldman, Sean Astin, Kerri Green, Jeff Cohen, Josh Brolin, Jonathan Ke Quan and Martha Plimpton. John Matuszak, who played the lovable oaf Sloth with the catchphrase, "Hey You Guys!," died in 1989.
The story for the original The Goonies from 1985 was conceived by Steven Spielberg. Chris Columbus wrote the screenplay while Richard Donner directed.
While Donner's confirmation tells us that The Goonies sequel is in the works, there is no guarantee that it will ever see the light of day. There's been no studio announcement confirming the film has been green lit, and that this point we don't know who is working on the story or what creative team has been assembled.
Clearly there will be much more to The Goonies 2 story that will play out over the coming months.
Source: TMZ