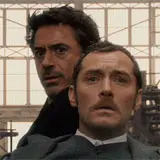 The first theatrical trailer for Warner Bros. Pictures' Sherlock Holmes directed by Guy Ritchie and starring Robert Downey Jr., Jude Law and Rachel McAdams has hit the web.
Ritchie's version of Conan Doyle's Sherlock places as much emphasis on physical prowess as brains. The new Sherlock can and will participate in fisticuffs with the best villains his country has to offer.
Sherlock Holmes will arrive in theaters on Christmas Day.
Check out the trailer below and let us know what you think of it in the HDR Forums. Was this first role for Robert Downey's Jr. preceding Iron Man 2? Is Jude Law right for Watson?
For me personally the trailer is nothing special. Ritchie's take looks moderately entertaining but I feel no desire to rush out and see it immediately. Yet, anyways.
> >