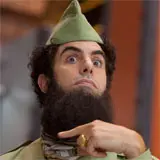 Sacha Baron Cohen's The Dictator is coming to Blu-ray and DVD on August 21 in a "banned and unrated" version unseen in theaters that offers substantially more General Aladeen to enjoy or stomach, whichever your preference may be.
Along with The Dictator Blu-ray announcement comes a message from General Aladeen himself, "My film is funnier than equal rights for women, as gut-busting as a UN resolution and more hilarious than watching a student set himself on fire. Owning a copy of my glorious and award-winning film will give you more pleasure than having Halle Berry rub almond oil into your buttocks while you stimulate her bint al-sahn with your mashloof… and it will cost you considerably less money," he said. "Although my film was subjected to the infamous authoritarian censorship of the West, thanks to Blu-ray and DVD you can finally see all the really naughty bits. I have your home address, so trust me, you WILL love it."
Those naughty bits that comprise the "banned and unrated" version total up about 20 minutes of all-new footage added back into the film, with the theatrical cut also being available via seamless branching. An additional 30 minutes of deleted and extended scenes.
The full disc features for The Dictator on Blu-ray are as follows:
Deleted and Extended Scenes

Newsnight Interview
Nuclear Diary
Deathbed Flashback
Assemble the Generals
Meet Clayton
Aladeen Steals Food
Computer Store
Death to Aladeen Restaurant
Manhattan Zoo
Funeral Parlor
A Gift for Zoey
Titfight
The Birthing
The Rooftop
A Final Word

Larry King Interview
Music Video: Best Love Song "Your Money's On The Dresser"
Click here to pre-order The Dictator on Blu-ray for $21.99 at Amazon.com, 51% off the $44.99 list price.