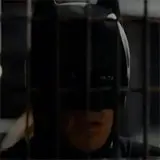 A new The Dark Knight Rises trailer blasted onto the web today via a promotion with Nokia and their new Lumia 900 phone.
Much of the footage in the new trailer has been seen before, only now it has been edited into more of a narrative than a scattered collection of scenes. Joseph Gordon-Levitt as Gotham City cop John Blake gets the trailer underway by telling a kid he doesn't know if he (i.e. Batman) is coming back. The trailer then switches to introduce Bane, who calmly introduces himself as "Gotham's reckoning" just before bridges leading into Gotham are blown apart.
Batman's (Christian Bale) introduction comes from "anger" and not "fear" as the Dark Knight is called back into action after an eight-year hiatus to take on Bane. It is implied that Batman's first encounter with Bane will not go well and Bane will win, crushing Batman physically including breaking his famous cowl in two. It's interesting to note that Bane refers to Batman as "Mr. Wayne" so he has clearly done his homework prior to taking on Gotham's finest.
From there the trailer kicks into overdrive with the usual montage of action and dramatic scenes we've become accustomed to from Warner's marketing department and Christopher Nolan. There are new looks at the big brawl between Bane and his massive group of thugs and what looks to be Gotham's entire police force. Commissioner Gordon (Gary Oldman) appears to roll his car which could be what lands him in the hospital, as seen in the very first teaser for The Dark Knight Rises last summer.
Catwoman (Anne Hathaway) and Batman's new aerial ride, the Bat, get a few moments in the spotlight. There's a new explosion scene at the football stadium in what appears to be the luxury suites or press boxes that tells us Bane blowing up the field is only part of his attack on the Gotham Knights.
The trailer ends with Alfred's (Michael Caine) great line to Bruce, "don't worry, Master Wayne.. it takes a little while to get back in the swing of things."
The Dark Knight Rises stars Christian Bale, Anne Hathaway, Tom Hardy, Marion Cotillard, Gary Oldman, Michael Caine, Morgan Freeman and Joseph Gordon-Levitt. The fire rises on July 20 in traditional theaters and IMAX.