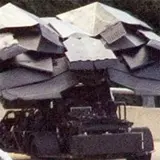 What appears to be an aerial craft in the same style as the Tumbler has shown up on the streets of Pittsburgh as part of Christopher Nolan's shoot for The Dark Knight Rises.
In the lone photo, the craft is attached to a rig with wheels and on its way into the Wabash Tunnel. At least a portion of the craft as it may be expanded upon in post production with CGI.
Many are speculating this is the Batwing, but it could also be some of hybrid between a plane and a jet pack that Christian Bale aka Batman attaches to more than sits inside a cockpit. It could also be a boat or hovercraft vehicle, or something capable of land, air and sea combat.
There's also a new video out on YouTube of what looks like a small army worth of Gotham City police cars and SWAT trucks. No doubt these are part of some big action sequence involving vehicles, perhaps even the new mysterious Tumbler-esque rig.
Source: Batman News