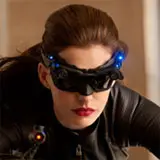 The Dark Knight Rises has landed a PG-13 rating for Christopher Nolan and Warner Bros. by the Motion Picture Association of America. We would all be millionaires if there were an opportunity to bet on what the rating would be considering the previous Nolan Batman films were the same.
What's intriguing about the rating is not the "intense sequences of violence and action" cited as one of the reasons. That's to be expected when Batman (Christian Bale) and Bane (Tom Hardy) square off to determine the fate of Gotham City.
The presence of "language" isn't a big deal either as I'm sure any of us would curse if a hulking, neurotic Bane were hellbent on breaking us in two. I'd probably belt out ever expletive in my repertoire while sprinting in the opposite direction.
Sticking out in the rating description is "some sensuality," something Bruce Wayne never experienced on-screen with former flame Rachel Dawes. It looks like Mr. Wayne, and his alter-ego Batman, too, will share some extra tender moments with Selina Kyle aka Catwoman (Anne Hathaway) unlike anything seen in Nolan's Bat-verse thus far. I'm all for a little extra juicy seduction to help distinguish Catwoman from Dawes, one of the weaker characters Nolan has put on screen.
The Dark Knight Rises stars Christian Bale, Tom Hardy, Joseph Gordon-Levitt, Anne Hathaway, Gary Oldman, Marion Cotillard, Morgan Freeman, Michael Caine and Matthew Modine. Look for it in theaters and on IMAX beginning July 20.