Batman-themed home theaters are nothing new. Custom home theater installers have been designing and building them since Batman Begins and up through The Dark Knight Rises. Even if you have seen Bat Cave-like home theaters before, I promise you haven't seen one as cool as this where money couldn't have been a consideration.
Elite Home Theater Seating has posted their theater of the month modeled after The Dark Knight, though timed with the release of The Dark Knight Rises at an estimated cost of $2 million, this concept home theater will be finding its way into the home of a lucky California and/or Connecticut resident.
The theater is part of a larger home that has been modeled after Wayne Manor that spans a whopping 12,000 square feet. A bust of William Shakespeare is tilted to active a secret door revealing a stainless steel cylindrical elevator, and a fingerprint scan is required to make it work.
Once down the tube, the owner will emerge from the elevator into the rear of his Bat Cave theater. There 's a wall of bat computers, a fireplace, and the home theater equipment.
The overall design of the theater is a cross between art deco and the classic elements of Wayne Manor. Gargoyles are perched atop a faux bookcase that slides back to reveal a 15′ replica Tumbler Batmobile, Batman gadget armory, and a secret tunnel leading to another area of the home.
A giant Batman symbol from Christopher Nolan's films sits above the massive 180″ screen with Bane (Tom Hardy) and Batman (Christian Bale) engaged in battle. In addition, 6 full Batman suits are located in alcoves around the theater.
In a word, wow.
Click the images below for a larger look at The Dark Knight Rises home theater/work of art.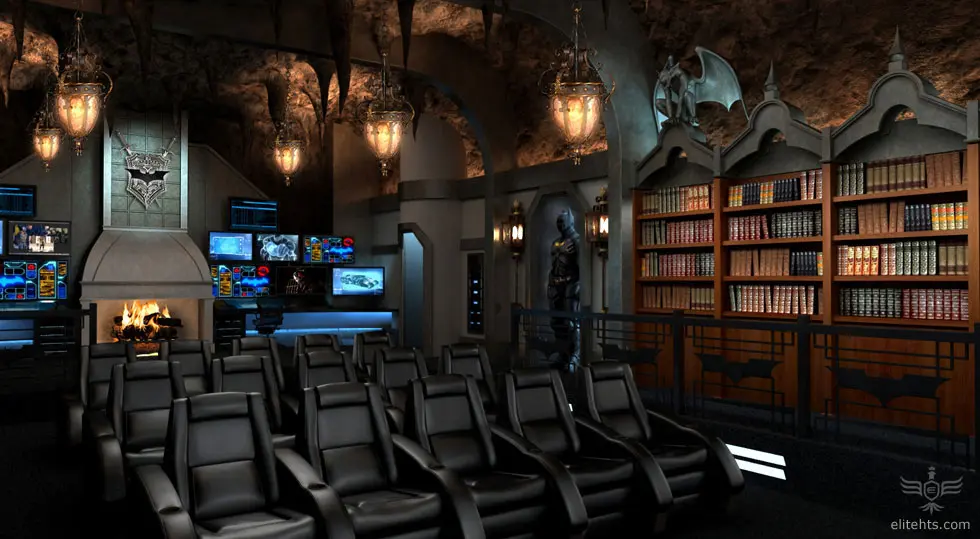 Source: National Confidential