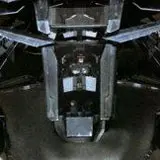 Hot Toys has offered up the first indication of just how enormous its upcoming 1/6 scale The Bat vehicle based on its appearance in The Dark Knight Rises is. You might want to consider upgrading the size of your home if you were planning on purchasing one when they're available.
Below are two freshly released images from Hot Toys that showcase their entire lineup of Batman-related vehicles in the 1/6 scale. There's the original 1966 Batmobile that was unveiled just prior to Comic-Con, the 1989 Michael Keaton Batmobile, The Dark Knight Tumbler Batmobile, The Dark Knight Rises Batpod, The Dark Knight Rises Camouflage Tumbler Batmobile, and of course The Bat.
For scale's sake, take a look at the puny Batman DX figure sitting in The Bat cockpit. That figure is a foot tall, which means the wingspan of The Bat is probably somewhere in the neighborhood of three feet. If the width is three feet, then that sucker is probably at least four feet long. The cost will definitely be well north of $1,000 when it goes up for pre-order.
Speaking of The Dark Knight Rises Batman DX figure, you can pre-order and/or see a lot more of the incredible detail work on him here.
Aside from a price tag, all The Bat is missing now is an Anne Hathaway The Dark Knight Rises Catwoman sitting in the back seat.