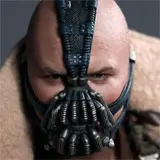 Update: Pre-orders are now up for the Hot Toys The Dark Knight Rises Bane and camouflaged Tumbler. Bane will ship in March 2013 and the camouflaged Tumbler in September 2013.
Hot Toys Bane pricing and pre-order.
Hot Toys camouflaged Tumbler pricing and pre-order.
Hot Toys has released new images the camouflaged Tumbler and Bane (Tom Hardy) 1/6 scale The Dark Knight Rises. And yes, Bane comes with the broken Batman cowl.
Bane comes in his brown trenchcoat attire that has become his signature look from the film in most of Warner Bros.' marketing materials. He also includes an alternate sweater, two extra pairs of hands, a wrist guard, and the Batman cowl.
Neither the camouflaged Tumbler or Bane Hot Toys products are available for pre-order at this time. In fact, they don't even have a release date as of yet. Given the recent image reveals, I would expect Sideshow Collectibles to begin taking pre-orders sooner rather than later. They might even appear on Friday, the day The Dark Knight Rises arrives in theaters.
There are several The Dark Knight Rises Hot Toys 1/6 products available for pre-order right now, with one of them set to begin shipping next month. They include a reissue of the Batmobile Tumbler from The Dark Knight, the Bat-Pod, and the Batman DX figure with Bruce Wayne (Christian Bale) alternate head. Pre-order links for all of these are below. Catwoman (Anne Hathaway), however, has yet to be revealed or even hinted at.
Click here to get pricing and pre-order The Dark Knight Rises Batmobile Tumbler at Sideshow Collectibles
Click here to get pricing and pre-order The Dark Knight Rises Bat-Pod at Sideshow Collectibles
Click here to get pricing and pre-order The Dark Knight Rises Batman DX at Sideshow Collectibles