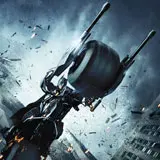 The Dow dropped another 600 points today which pushed it below 9000, sending stronger signals holiday spending will be greatly reduced this year.
But don't tell that to Batman.
Online retailer Amazon.com has put back The Dark Knight two-disc Blu-ray Disc and DVD pre-orders after a short absence. They've even gone as far to promote all versions of the record-breaking sequel on multiple key home video pages.
The result? According to the hourly home video (re: DVD and Blu-ray combined) bestsellers list, The Dark Knight on Blu-ray Disc has shot straight into the top 10 at the number 3 spot. Only Iron Man on Blu-ray and Sleeping Beauty on DVD rank higher. That will likely change before the day is out.
Iron Man has already set single and one-week Blu-ray sales records but do you really think this potential recession will stop The Dark Knight from breaking every one of them? Nah.
You can snatch up your copy of The Dark Knight on Blu-ray Disc for only $24.95 by clicking here.