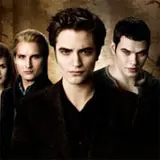 One of the most recognizable traits of Twilight are the haircuts — or lack thereof — sported by the Cullen family of vampires.
For the sequel, The Twilight Saga: New Moon, the barber was a little more active than in the original. Proof comes oddly enough from a 2010 New Moon calendar surfacing online that shows the family together for the first time.
Edward (Robert Pattinson) has seen his poofy hair trimmed back substantially while Esme (Elizabeth Reaser) and Alice (Ashley Greene) sport different styles and colors. Not that their hair really matters, but Twilighters love picking this stuff out and director Chris Weitz might actually offer an explanation for one or more of the characters' new hairdos.
Have a gander at the calendar below, and be on the lookout for Twilight: New Moon in theaters on November 20.