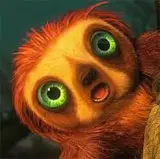 Dreamworks Animation's The Croods has joined the growing trend of being available for pre-order on home video on or shortly after its theatrical debut.
Though The Croods won't be released on Blu-ray 3D, Blu-ray and DVD for at least another couple months, online retailer Amazon.com is taking pre-orders for multiple Blu-ray versions and has even included temporary cover art. Distributor Fox Home Entertainment likes to issue temp covers for early pre-orders and replace with final covers later as seen with Life of Pi and Prometheus, so what you see below should not be considered final artwork.
The Croods opened theatrically on March 22 and has become a much needed hit for Dreamworks after Legends of the Guardians struggled last fall. It has earned $157.9 million domestically and a huge $430.3 million worldwide. The film stars the voices of Nicolas Cage, Ryan Reynolds, Emma Stone, Cloris Leachman, Catherine Kener and Clark Duke.
Fox will be releasing The Croods on Blu-ray 3D in a combo pack with Blu-ray and DVD, as well as Blu-ray comboed with DVD and a plush toy.
Thanks to a tip from Josh, it looks like Fox might be releasing The Croods to home video on June 25 as several animated catalog Dreamworks titles are getting special edition treatments on that date. We will pass along the exact release date once it is available.
Click here to pre-order The Croods on Blu-ray 3D combo for $34.29 at Amazon, 30% off the $48.99 list price.
Click here to pre-order The Croods on Blu-ray combo for $29.99 at Amazon, 23% off the $38.99 list price.