The Criterion Collection continually release some of the best and most important films (not to mention the best picture, sound and supplements packages) one could hope to find in the Blu-ray format and today's announcement of their February releases further cements this belief.
In February, The Criterion Collection will be releasing six films, five new additions to the numbered spine count, as well as one upgrade. The upgraded title consists of two films, La Jeéte and Sans Soleil, directed by Chris Marker. Both films, the former being about time travel through the use of still imagery, the latter about a trip from Africa to Japan, are completely different but inherently connected.
From Sci-Fi to Samurai, the five new additions to The Criterion Collection run the gamut of genres, all representing some of cinema's finest moments. There's World on a Wire, Rainer Werner Fassbinder's futuristic noir tale that was originally created for television but is now presented in its complete 3 ½ hour form. The courtroom drama has never been quite so frank or explicitly detailed as it is in Otto Preminger's Anatomy of a Murder. Hideo Gosha's Three Outlaw Samurai tells the story of three Ronins who become entangled in each other's business until they unite towards a common goal. Louis Malle finds yet another of his films in the collection with his 1994 gem, Vanya on 42nd Street. Malle captures a production of Anton Chekov's Uncle Vanya and was, sadly, to be his last film. Finally, through a continuing partnership with IFC, Criterion presents Tiny Furniture; Lena Dunham's semi-autobiographical and sharply comedic examination of her own life (even casting her mother and sister as themselves).
As has become standard, all of these releases carry a $39.99 MSRP except for Three Outlaw Samurai, which continues Criterion's budget pricing of films with little to no special features at $29.99. Listed below are all special features as well as release dates for each film.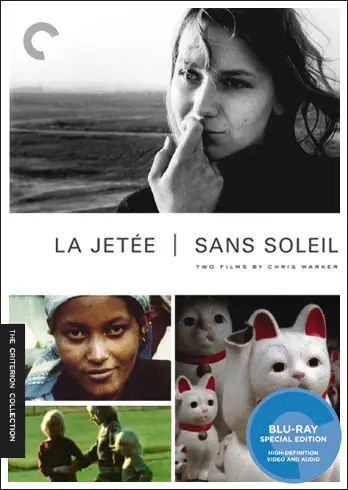 La Jeétee/Sans Soliel (Release Date: February 7, 2012)
Restored high-definition digital transfers, approved by director Chris Marker, with uncompressed monaural soundtracks
Two interviews with filmmaker Jean-Pierre Gorin
Chris on Chris, a video piece on Marker by filmmaker and critic Chris Darke
Two excerpts from the French television series Court-circuit (le magazine): a look at David Bowie's music video for the song "Jump They Say," inspired by La Jetée, and an analysis of Hitchcock'sVertigo and its influence on Marker
Junkopia, a six-minute film by Marker about the Emeryville Mudflats
PLUS: A booklet featuring an essay by Marker scholar Catherine Lupton, an interview with Marker, notes on the films and filmmaking by Marker, and more
Three Outlaw Samurai (Release Date: February 14, 2012)
High-definition digital restoration, with uncompressed monaural soundtrack on the Blu-ray edition
Trailer
New English subtitle translation
PLUS: A booklet featuring an essay by film critic Bilge Ebiri
Tiny Furniture (Release Date: February 14, 2012)
New digital transfer, with DTS-HD Master Audio soundtrack on the Blu-ray edition
Director Lena Dunham talks about filmmaking and autobiography in a new interview with writer and filmmaker Nora Ephron
New interview with writer-director Paul Schrader
Creative Nonfiction, Dunham's first feature film
Four short films by Dunham
Trailer
PLUS: A booklet featuring an essay by critic Phillip Lopate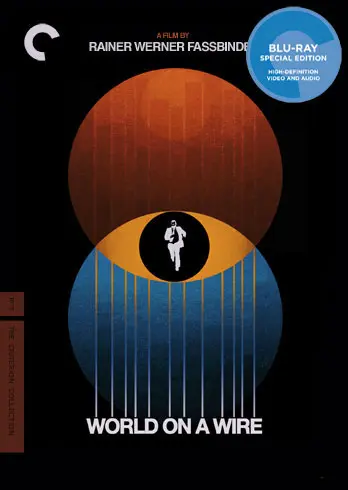 World on a Wire (Release Date: February 21, 2012)
Amazon Pre-order: $16.99
New high-definition digital restoration, with uncompressed monaural soundtrack on the Blu-ray edition
Fassbinder's "World on a Wire": Looking Ahead to Today, a fifty-minute documentary about the making of the film by Juliane Lorenz
New interview with German-film scholar Gerd Gemünden
New English subtitles
Trailer for the 2010 theatrical release
PLUS: A booklet featuring an essay by film critic Ed Halter
Anatomy of a Murder (Release Date: February 21, 2012)
New high-definition digital restoration, with uncompressed monaural soundtrack on the Blu-ray edition
New alternate 5.1 soundtrack, presented in DTS-HD Master Audio on the Blu-ray edition
New interview with Otto Preminger biographer Foster Hirsch
Critic Gary Giddins explores Duke Ellington's score in a new interview
A look at the relationship between graphic designer Saul Bass and Preminger with Bass biographer Pat Kirkham
Newsreel footage from the set
Excerpts from a 1967 episode of Firing Line, featuring Preminger in discussion with William F. Buckley Jr.
Excerpts from the work in progress Anatomy of "Anatomy": The Making of a Movie
Behind-the-scenes photographs by Life magazine's Gjon Mili
Trailer, featuring on-set footage
PLUS: A booklet featuring an essay by critic Nick Pinkerton and a 1959 Life magazine article on real-life lawyer Joseph N. Welch, who plays the judge in the film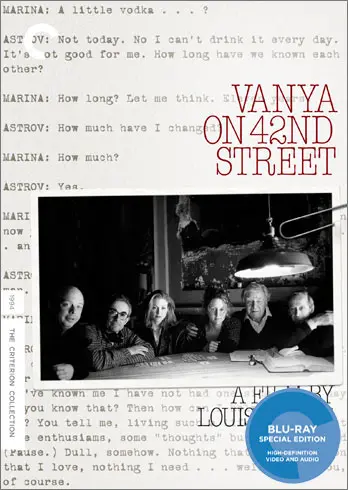 Vanya on 42nd Street (Release Date: February 28, 2012)
New high-definition digital restoration, with 2.0 surround DTS-HD Master Audio soundtrack on the Blu-ray edition
New documentary featuring interviews with André Gregory, the play's director; actors Lynn Cohen, George Gaynes, Julianne Moore, Larry Pine, Wallace Shawn, and Brooke Smith; and producer Fred Berner
Trailer
PLUS: A booklet featuring an essay by critic Steven Vineberg and a 1994 on-set report by film critic Amy Taubin