Disney Interactive is at a crossroads. It's no secret that the Disney video game unit has underperformed since its inception in 2008, delivering far more misses than hits and racking up huge losses for the Mouse House in the process. Something had to give, but at what cost?
Enter Disney Infinity, a digital playground where Disney's beloved characters from movies and television can congregate and interact for the first time ever on any medium. Jack Sparrow, Buzz Lightyear, Mickey Mouse and more are being called upon to resurrect Disney Interactive through the power of brand appeal and profit margin-friendly toys.
According to the Wall Street Journal, Disney Interactive has spent $100 million or more developing the Disney Infinity game and its Skylanders-inspired toy figures. Disney Interactive won't outright say Skylanders served as inspiration for the physical toy componet of the game, but it's obvious by taking one glance at the Starter Pack or a Disney Interactive behind-the-scenes video in which Skylanders figures were spotted hanging out on a developer's desk.
At $100 million, or the cost of a Hollywood visual effects laden action film, Disney Interactive has put all of their eggs into the Infinity basket in hopes of striking the same gold that Activision has with over $1.5 billion in Skylanders product sales to date with Swap Force two months away from release. They're hoping Disney collectors and completists alike will flock to Disney Infinity and spend a small fortune each to purchase all the product required to assemble a "complete" game.
Let's assume you want to buy Disney Infinity and the entire first wave of product. What would that cost? Let's break it down.
First, you will need the Disney Infinity Starter Pack for Xbox 360, PS3, Wii U or Wii at $74.99. The Starter Pack comes with Play Sets for Pirates of the Caribbean, The Incredibles and Monsters University. However, there are two additional Play Sets available to purchase separately at launch for $34.99 each.
For the game and all five Play Sets we're at $144.97. Now let's look at the figures. There are a total of 10 individually sold figures that will be available for the game's launch for $12.99 each. They are:
Six of the ten figures are available in $29.99 three packs so let's assume those are bought along with the four other singles. That takes our total to $256.91.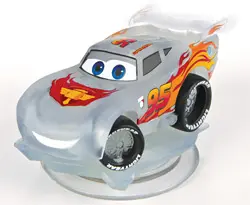 Let's not forget the Lightning McQueen Infinite Crystal Series (Cars) Toys R Us exclusive figure for $13.99, bringing our total to $270.90.
Next up are the Power Discs and here's where the cost of Disney Infinity gets a little messy. There are a total of 20 Power Discs available at launch with a 21st exclusive to Toys R Us. Each is blind-bagged in packs of two for $4.99 each. There's no way someone will be able to buy 10 packs and get all 20 Power Discs, then go to Toys R Us and buy one pack and get that elusive 21st Power Disc.
We'll assume lotto winner luck to keep the calculation simple so that's 11 packs at $4.99 each, taking the grand total to $325.79 at bare minimum. More than likely the costs will rise upward of $375 or higher once Power Disc duplicates and sales tax are taken into consideration. Throw in the wave 2 figures and Toy Story in Space Play Set, and wave 2 of Power Discs, and you're at $500 or more by year's end.
Disney Infinity was expensive for Disney Interactive to produce. As such, it will be expensive for consumers i.e. you and I to purchase. Whether it's worth the investment or not will be determined beginning this Sunday, August 18 when it rolls out in stores everywhere.
If Disney Infinity fails to bring Disney Interactive into the black and turn their fortunes around, I would expect Disney Interactive to go the way of LucasArts and Disney properties to be licensed out to third party developers, much in the same way EA and DICE are working on Battlefront for a 2015 release. Something tells me Disney Infinity and its digital playground will appeal and play alongside Skylanders rather than battle it, and we'll be seeing new figures, Play Sets and games for years to come.