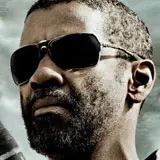 Update: Avatar was beaten a time previously on Christmas Day by Sherlock Holmes by a margin of $1.5 million.
Warner Bros. appears to have scored another hit following The Blind Side and Sherlock Holmes after The Book of Eli opened on Friday with an estimated $11.7 million and is on course for around $30 million through Sunday.
The Denzel Washington starring post-apocalyptic thriller was able to best the $10.4 million put up by James Cameron's Avatar and dethrone the king of the box office for only the second day since it opened. The other day was Wednesday, December 23 when Alvin and the Chipmunks: The Squeakquel enjoyed its huge mid-week opening day and beat Avatar by nearly $2.5 million.
As with the Chipmunks' fate, Avatar is expected to return to the top on Saturday and win the three and four-day weekend with ease. Check back Sunday afternoon for the first weekend estimates.
A modified marketing campaign aimed at teenage girls following test screenings and weeks of limited release helped Peter Jackson's The Lovely Bones secure third place on Friday in its first day of wide release. The $5.7 million opening should equate to around $15 million through Sunday and over $20 million for the four-day holiday weekend.
The other newcomer, Lionsgate's The Spy Next Door with Jackie Chan, managed $2.3 million despite nary an advertisement to be seen or word of mouth to follow. Last week's newcomers Daybreakers and Youth in Revolt fell completely off the radar with under $2 million each and a likely quick exit from the top 10 in the final weekend numbers.